Ho! Ho!! Ha!!! Ha!!!!
New Laughter Clubs at Jodhpur
Reprinted with permission
After Udaipur, Jodhpur is the second major town in Rajasthan to have Laughter Club. It was all due to the efforts of a young dynamic philanthropist, businessman, Suresh Rathi - who organised the launching in a grand fashion. Two months ago, Suresh Rathi ex-pressed his desire to start a Laughter Club because he is an ardent reader of "Your Own Doctor" and "Mera Doctor". For a long time he has been reading about laughter clubs and he has his office in Mumbai, where he is a stockbroker. In spite of bad market conditions, he decided to laugh and make others laugh.
Fortunately, there is a direct train nowadays and during the journey we met a wonderful, religious and very social couple Mr. and Mrs. Mohta. On the way we exchanged our modem and ancient ideas. I, along with my wife, Madhuri, arrived in morning at Jodhpur station where Mr. Suresh Rathi himself came to receive us. I had never met him before, but I could recognize Mr. Rathi from a distance because of a wide smile writ on his face.

Our stay arrangements were in the famous Umed Club and the same day, a press conference was organised.

The same day in the evening, the Laughter team went to a nearby town, Balotra, which is about 100 kms from Jodhpur. A talk and demonstration were organised by the Rotary Club of Balotra at 6 p.m. Nearly 150-170 people attended the session. We are thankful to Dr. Shivnani, President of Rotary Club. In the evening, we were served a traditional Rajasthani family dinner at Balotra, with lots of ghee and Love.

The news about opening a Laughter Club appeared in papers first thing in the morning. The first club was opened at Cazzri, a residential colony of government employees. It is a huge complex with lot of greenery and wide roads, flowering parks. On the first day, there was a gathering of 150-200 people including ladies and children. The lecture-cum-demonstration lasted for one hour and every body enjoyed it thoroughly.

Health Workshop at Birla White
After the morning session, our team headed to the Birla White complex, a factory cum residential colony for the employees of a cement company. Due to Some delay in travelling, the session started at 12 noon in a sensational way. Till that time, people were assembling, we had a quick laughing session with school children of the complex. The principal looked young and full of life even at the age of 65 years plus. Nearly 15 teachers and 70 students had a brief encounter with Hasya Yoga. Children were beautifully dressed and looked fantastic while they laughed.

In the end I was promised by the principal and Yoga teacher, that they will keep the laughing exercises on. A 3-4 hour health workshop was organised for 70 participants, mainly executives of the company, along with their wives. The participants were given basic guidelines about taking allopathic medicines, sensible eating, handling emotions, Naturopathy tips, and Hasya Yoga. The session ended with fun games, which made everybody laugh. Everybody was glowing with joy.

On our way back to Jodhpur, we visited a cement factory owned by Suresh Rathi. After a long tiring day, we relaxed at the Umed Club and had an early dinner in anticipation of the next day's inauguration of the second Laughter Club at Shastri Circle in Jodhpur. News about the previous laughter session had appeared in most of the papers and a huge crowd gathered at Shastri Circle (more than 300) to witness the proceedings of the best medicine. There was enthusiastic participation from volunteers of Nehru Sewa Sammiti and this club is still going great guns everyday.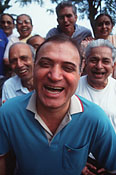 The same day at 10 a.m. there was a seminar at Jodhpur's popular Naturopathy Centre "Swasthya Sadhna Kendra". Looking at the gathering for first time I realised the kind of health awareness among the people of Jodhpur. Before the seminar, we visited some in-house patients, who were admitted for the treatment of heart disease, obesity, slipped disc and others diseases.

Dr. Gandhi, who is a qualified Allopathic physician, has dedicated himself to naturopathy, took us around and showed some cases who were advised bypass surgery and improved significantly with nature cure.

The hall was jam-packed, so much so that some people had to sit in the verandah. The Rotary Club of Jodhpur, under the leadership of Mr. Anand Chopra, the president of the club, sponsored the function. One of the trustees of Swasthya Sadhna Kendra, Mr. Birdichand Chaudhuri, spoke about aims and objectives of the naturopathy centre. Followed by a talk and demonstration on hasya yoga. The audience was enthralled with the concepts of laughter therapy and everyone participated with great zest. At the end of the function everyone was served a "Special Meal" made out of brown rice and not polished white rice. These five things: sugar, salt, chilli, oil and maida are not added in the food, yet it is tasty.
In the last leg of the trip, two most important sessions at Jodhpur are worth mentioning. The morning session was organised at Public Park where huge crowds had gathered and a video shooting was done. During the laughter session, the lions and tigers were also responding from a nearby zoo.

The most thrilling moments were at Bal Niketan School. The Principal of the school told us that there is no sweeper in their school, moreover no ayabais (servants) or peons in the school. All the floors and classrooms are cleaned by the children themselves. They also wash their utensils after lunch. It was quite inspiring. In the beginning 250-300 children participated in a laughter session. But those who were left out, started shouting Ho, Ho, ha, ha in their classrooms. Some children kept on peeping through the windows and giggling throughout the session. Looking at their enthusiasm, the Principal requested us to Conduct another laughter session for children who were left out from the first session. The second session was still more interesting. I always love making children laugh.

The time of return journey was drawing near. We visited an old friend, Mr Vatwani, who is a famous optician in Jodhpur and then we were given a farewell lunch, beautifully packed by Suresh Rathi and his lovely wife.

When I look back, in three days I had so many lectures and demonstrations along with more than 400 km of travelling time in Jodhpur. How I did it is still a mystery? Where did the this energy come from? The answer is: passion. When you do anything with passion you don't feel either the time or fatigue.

Man Behind the Show
I, along with Madhuri, my wife, want to express my gratitude to the dynamic young man, Mr. Suresh Rathi, who is a great motivator; tireless worker and organizer par excellence and not to forget the women behind every great man, Mrs. Shashi Rathi who keeps him charged all the time. He has many social projects in the pipeline. How he manages his business and so many social commitments, God only knows. Best of Luck, Suresh! God Bless You!